THE ENDSEQUENCE part 2 - The enddemo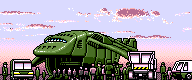 5th air division, board now!
Mobile infantry, board!
KSDF A-team, prepare to board...



Jamie
Do you really have to go, Gilian?

Gilian
I'm afraid so, Jamie.. We know now the key to our past lies within the Kremlin...
We will destroy all the Snatchers there. But I will also find back memories...

Jamie
Gilian...

Junker team 13, board, please!

Gilian
I must go now...

Jamie
Take this with you

Gilian
Harry's cap?

Jamie
It will bring you luck.

Gilian
Thanks, Jamie... I guess it's good-bye, then...

Randam
Hey! Runner! Wait!!



Jamie
You?!

Gilian
You're alive!

Randam
I could get away from that reactor just in time. You will need some help in Moscow..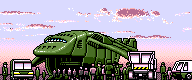 ... I'm coming with you!

Gilian
Okay... Partner...

Randam
Maybe we'll even be back before christmas..

Jamie
Christmas...

Gilian
Newyear...

IF IT WANTS TO HOPE FOR A
BETTER FUTURE, MANKIND
MUST FIGHT ITS OWN DOUBTS...