THE ENDSEQUENCE part 1 - Fighting the Master Snatcher
After a long fight through the labyrinth of the Snatcher base, Gilian finally enters a room where he finds Jamie.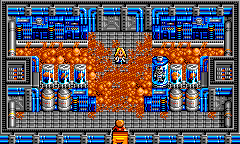 Jamie
Gilian! Finally...

Gilian
Jamie!!

Jamie
Gilian... My memory... It has returned... Harry... He was our son!

Gilian
Harry...? Grandpa? Grandpa? Our child?!

Jamie
It's hard to believe because he was 50 years old. But while we were asleep, he grew up and became an adult...

Gilian
Jamie... Harry...

Jamie
We were safe there. But Harry... He had to do it without us. He had no family...

Gilian
But that's a long time ago.

Jamie
A long time ago?!

Gilian
Yeah! I still can't remember a thing!

Metal
Gilian!! Watch out!!


Suddenly a creature breaks out of one of the watertanks, and raises some kind of organic barrier in front of Jamie. It appear to be the Master Snatcher!

Master Snatcher
Junker! Finally we meet!!

Gilian
...H-Huh?!

Master Snatcher
Jamie will help us to create a perfect skin. Our Level-2 project will be completed. We will win!!!

Jamie
I'm sorry Gilian. But he forced me to.

Gilian
It's ok Jamie.

Master Snatcher
Listen Junker! While we will gather in the Kremlin, our nuclear submarines with lucifer-beta will be spread out over the whole world.
Every human will be terminated! Nobody can stop us now! Not even you, Junker fools!! Hahahahaha!!!


No way, dickhead! Not when Gilian Seed is alive!!

Master Snatcher
Gilian Seed... Jamie Seed... In a few moments lucifer-beta will be released which means your death.
But Gilians Seed... You will be the first one! Because I'm gonna kill you right now!
PREPARE TO DIE!!


A fierce battle between Gilian and the Master Snatcher follows. At first, the creauture does not seem very tough to beat, but then it transforms into a huge bioroid...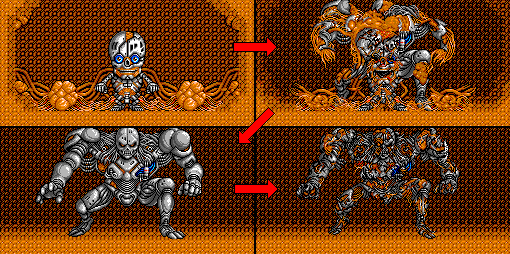 Eventually, Gilian manages to destroy the Master Snatcher. When Gilian and Jamie realise that the evel creature is gone, Randam Hajile enters the room.

Jamie
Ooh Gilian!!

Gilian
Jamie... We did it!!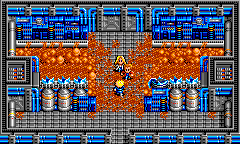 Randam
Gilian! You made it!!

Gilian
Randam!! You're back!

Randam
Big fight, I guess...

Gilian
Come on!! A piece of cake, you mean...

Randam
Typically Gilian....

Gilian
Right! Hahahahaha!

Metal
Gilian! Hurry up! The submarines will leave in 15 minutes. With lucifer-beta!!

Randam
What? Gilian! That will cause a big disaster...

Jamie
What can we do?

Gilian
Blow up the boats!!

Metal
14 minutes...

Randam
There's only one thing...

Gilian
What?!

Randam
The only way to destroy these boats, is to blow up the nuclear reactor.

Metal
Randam is right. That's the only way to get rid of the submarines...

Gilian
That's all, Metal?

Metal
No, someone has to sacrifice himself.

Jamie
That's suicide!

Gilian
No way!

Metal
I can do it.

Gilian
Metal!!

Randam
Ok, you two there. Stop quarreling please. I'll go. I'm just a simple robot. For me there is a chance.

Gilian
No Randam!!

Jamie
Please, Randam. Don't do it...

Randam
I'm begging you, Gilian. Please let me do this...

Gilian
.......

Randam
Take Jamie with you and run as fast as you can...

Gilian
Got it! Metal, how long will that take?

Metal
about 5 minutes.

Randam
Gilian, my father told me the remaining Snatchers are in the Kremlin. You must go there and kill them!

Gilian
Ah!

Jamie
Randam... I will miss you.

Metal
Gilian. No time left! M must go!!

Randam
Gilian, we had a great time...

Gilian
Yes, we had...

Metal
Gilian, damn!! Run!!

Gilian
Randam...

Randam
Gilian, I guess, it's farewell then...

Gilian
Randam...

Randam
Gilian! Quick!! Well, I'm gona make an end to this Snatcher-shit...

Gilian
Thank you, Randam...

Randam
Let's go!!



Gilian and jamie make a run for the exit of the Snatcher base as fast as they can and Randam starts the destruction mechanism of the reactor and jumps into the water just in time before the big explosion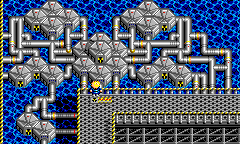 This explosion is the end of the game. What follows is the enddemo.